This week you might have seen a trend going around called #ShowUsYourLeave. Our organization went through an overhaul of benefits at the beginning of the year to be more inclusive and flexible, and you may have gotten a glimpse below: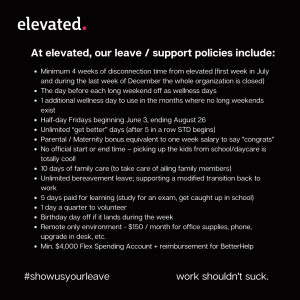 Having admired Elevated's philosophy that "work shouldn't suck," I was hopeful that what was on the outside would truly be replicated on the inside. I'm happy to say I haven't been disappointed.  As an employee seeking to balance work and the additional demands the pandemic has placed on my family, I am grateful for all the extras. These additional benefits have also made me feel valued and trusted – leading to increased motivation (I've even been inspired to write this blog!).
I am committed to doing the best I can for our clients and supporting Elevated's growth. Elevated has stepped up for me and I want to step up for Elevated. Yes, the trust factor at Elevated HR is high, but our culture is supported and maintained by other systems and processes as well.
Trust is built on reliability and consistency. 
If you are thinking about offering additional benefits to your teams but are worried about under-performers or employees "abusing" the flexibility, you may want to think about whether you have the right "scaffolding" to support the enhanced benefits.  Here are a few examples of how it works at Elevated:
Values: We have clearly articulated values, and our team knows we need to live by them. These aren't just words we heard on the first day and never again. We talk about these values in our team meetings, and, in our performance discussions. We recognize each other for living these values.
Performance Management: We use 15Five, a platform to help facilitate conversations and keep employees engaged. I check in with my manager once a week, we have regularly scheduled one-on-ones and a quarterly performance discussion. I participate in setting priorities and ask for support when I need it.
High Feedback: I also get (a lot) of feedback on my work – feedback which is provided constructively and kindly. You might have also read that we are a high feedback organization – this supports us to do excellent work, and we keep pushing ourselves to not settle.
Recruitment: As we go through the process of recruiting for a new team member, we also go back to our values to guide us in ensuring we are bringing on the right person. We take the time to clearly understand what success looks like in a role and this helps us to ask candidates the right questions.
Recruitment Transparency: During my own recruitment phase with Elevated, Michelle and I had a candid conversation about what she wanted and what I wanted. We took the time to make sure it was the right fit for both of us. After I started, Michelle and I talked about the goals for the company and how I would contribute to achieving those goals.
Communication Preferences: At Elevated, we believe in the Platinum Rule. This means we treat others as THEY want to be treated. One of the ways to facilitate this is through a DISC profile assessment. This has been such a valuable tool for me to understand my personality profile. Now, I am more self-aware of what might be holding me back from getting my work completed and I know how to communicate with my colleagues to successfully complete our work.
Employment Brand: It needs to happen internally as well as externally
At the end of the day, I know my employer values me and I am thankful to work for such a progressive organization. If you want to have a workplace that is FUN, high-performing, and gives you the comfort you need to implement some forward-thinking policies, let us help you!
Remember: It's not what you have to do, it's what you want your policies, compensation, benefits, etc., to say!
Zabin Jadavji is a Senior HR Business Partner with Elevated HR. Zabin specializes in HR Strategy, HR Software Implementation, Leadership and consults on Diversity, Equity, and Inclusion.